A rugged outdoor adventure – muddy good fun!
Plow through rivers, mud, forest, and rocks on a 2-hour quad biking & buggy adventure through the scenic alpine backyard of Hanmer Springs.
Our experienced guides will lead you on a fun and safe quad biking and buggy trip suitable for ages 6 and above. Our fleet of new 4-wheel drive vehicles are easy to get the hang of, and after training on our dedicated practice track you'll be away in no time. Choose to navigate the trail on a single-seat quad bike (a minimum age of 16 years applies) or opt for our 2-seat buggies which are perfect for families and groups, accommodating an adult driver and passengers from 6 years.
Grab your gumboots and enjoy a muddy 4-wheel outdoor adventure!
Our Quad Bike and Buggy adventures take approximately 2 hours including safety briefing, driving practice, and morning or afternoon tea stop (we offer water and a cookie) 

A minimum age of 16 years applies for driving a quad bike or buggy, and a minimum age of 6 years applies for passengers. All guests must fit safety equipment

We supply hairnets, helmets, gumboots, and overalls if needed – please note you may get wet or muddy depending on the conditions, so we recommend bringing a change of clothing and a towel. 

Photos of your quad biking or buggy experience can be purchased at an additional cost

Our onsite café supplies drinks, ice creams, snacks, and light meals

Our health & safety practices have been assessed by independent outdoor safety experts and we are AdventureMark Safety Certified.

Hanmer Springs Attractions reserves the right to refuse participation should any person be affected by alcohol, medication or any other substance such that they may be a risk to themselves or others.
You'll find us at 839 Hanmer Springs Road, just past the turnoff towards Hanmer Springs from State Highway 7 and just before the Waiau Ferry Bridge. There's a large carpark with plenty of parking for cars, campervans, and coaches. 
For your convenience, we offer complimentary pick-up and drop-off from most accommodation providers in Hanmer Springs on request. Please contact our reservations team at least 24 hours prior to your booking date to organise this service.
Please note that visitors to our attractions must be aware of elements of risk inherently involved with our activities, and are included in our activity waivers as well as detailed in the link below.
Book our Hanmer Springs combo passes!
Save when you book combos
Get more adventure
Explore the outdoors of Hanmer Springs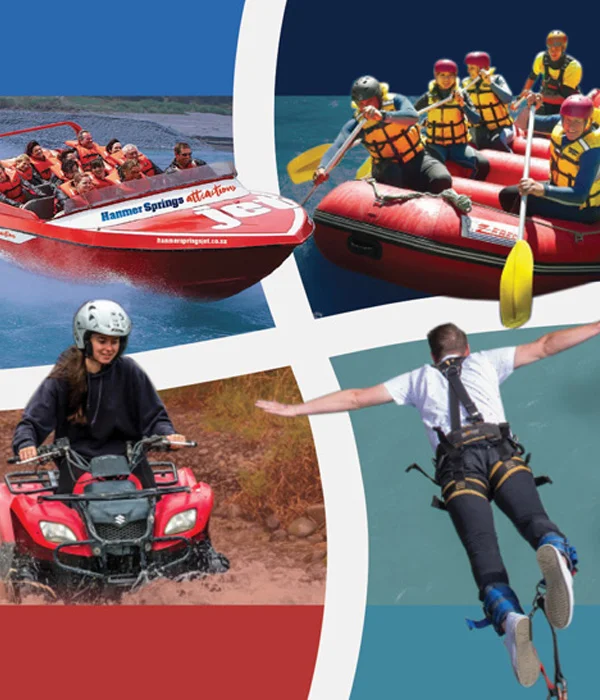 What people say
The Buggy was absolutely brilliant! Wife and 7 year old Son both completely loved it and was the best 2 hours of muddy fun we have had in a long time.
We did the guided buggy trail yesterday and it was a blast. Heaps of puddles to go through that the kids loved. I was like a kid all over again and would definitely recommend this if you are ever in or passing through Hanmer
Did the single quad biking and it was so much fun! We were lucky enough to do it in the snow which was amazing! Our tour guide was very nice and overall was such a cool and memorable experience.
Brilliant staff, very helpful, nothing was a problem. Our guide Kylie was awesome: really informative, fun to have to have as a guide.  Thanks for such an amazing afternoon quad biking in such a wicked backdrop. 100% recommended
The ultimate outdoor challenge: jet boat ride, 2-hour quad bike trek, 35-metre bungy jump and 2-hour river rafting trip – SAVE $75!
Plus save a further $25 using promo code SAVE25.
JET, QUAD, BUNGY
TRIPLE THRILLER
Experience more adrenaline with a thrilling jet boat ride, a 2-hour quad bike trek plus a must-do 35-metre bungy jump – SAVE $50!
Plus save a further $25 using promo code SAVE25.
An action-packed adventure combining a thrilling jet boat ride and a 2-hour quad bike trek – SAVE $25!
Plus save a further $25 using promo code SAVE25.
Enjoy a day of fun with a 2-hour river rafting trip with return by jet boat plus a 2-hour quad bike trek – SAVE $25!
Plus save a further $25 using promo code SAVE25.