有轨电车 我们整修一新的有轨电车将带您游览基督城的 城市新貌,享受一段时尚别致的城市观光之旅!
有轨电车是基督城独具代表性的旅游亮点,是欣赏城市风光和感受历史情调的独特体验。
我们热情友好的司机导游将为你介绍这个城市的概况,地标和本地风情。买一张票可随上随下,无限次乘坐一整天。
电车也将会在"雅芳河泛舟"和"植物园毛毛虫观光车之旅"最近的停靠点电车12号站停车。
您可以乘坐舒适的有轨电车,欣赏沿途经过的大教堂车站,雅芳河,美术馆 (Art Gallery)、蜿蜒曲折的雅芳河 (Avon River)、哥特式风格的艺术中心 (Arts Centre)和博物馆,也可以在电车中途停靠的17个站点(目前为12个站点)下车,亲自进行游览。
电车将从大教堂总站(Cathedral Junction)出发,途径大教堂广场,雅芳河,高街(High St)。之后再次回到始发点,开始经过坎特伯雷博物馆,海格利公园(Hagley Park),维多利亚广场(Victoria Square)和新摄政街(New Regent Street)。目前共有17个站点。
电车将在所有设有"电车停靠站"(Tram Stops)的地点停车。游客购买车票后,可随意上下车。
我们共有7辆有轨电车,每辆可乘载多达54名乘客,其中一辆有轨电车内设超豪华餐厅,设有12张餐桌,可接待乘客36人。
What you need to know

Duration
The full loop is 50 minutes

Open hours
Summer: 9am – 6pm daily (September – March)
Winter: 10am – 5pm daily (April – August)

MINIMUM AGE
There is no minimum age but for safety reasons Child must be accompanied by a paying adult

Whats included
Board at any of our 17 Tram stops, and get on and off with your ticket throughout the day. The Trams run every 15-20 minutes.

TRIPADVISOR
More than 10000 reviews in trip advisor
Tram Route Map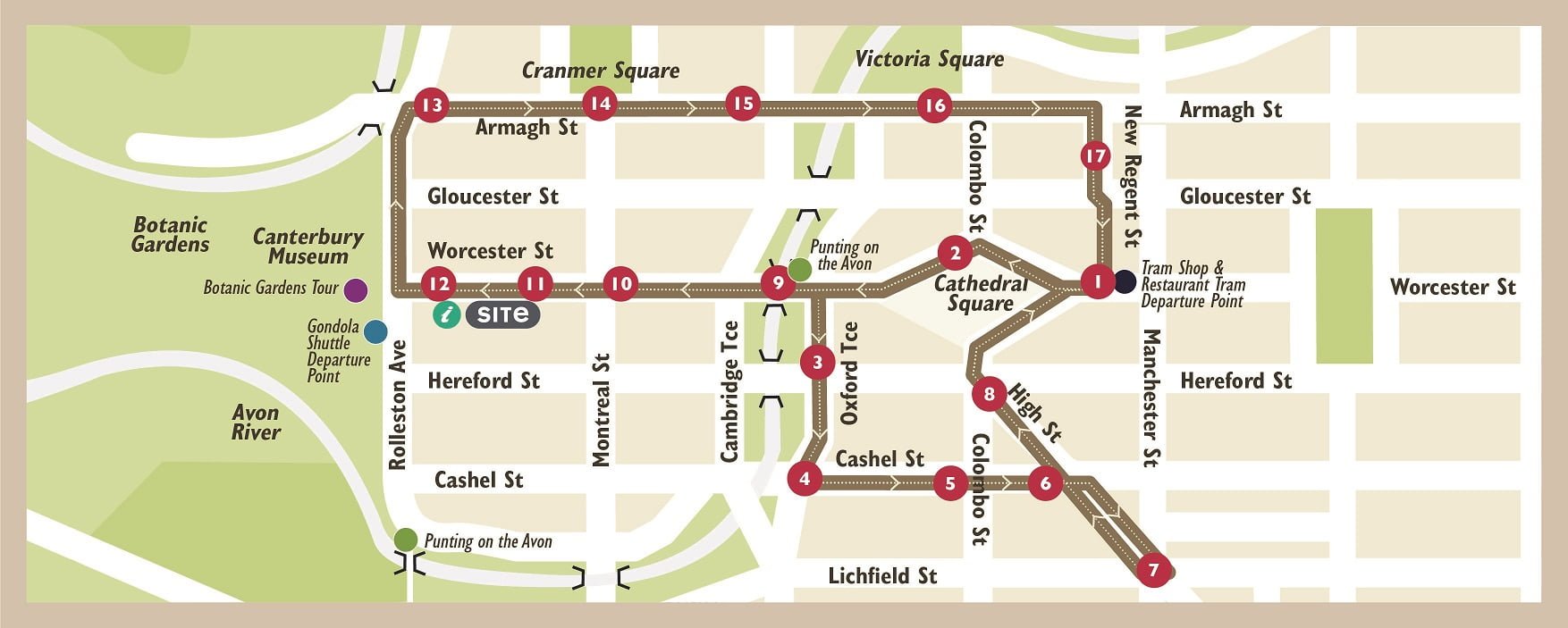 The journey begins at Cathedral Junction and travels through Cathedral Square before passing the Avon river and High Street. From here the Tram rejoins our Tram loop and passes the Canterbury Museum, Hagley Park, Victoria Square and New Regent Street. There are currently 17 stops along the route.
Our Tramway Restaurant departs from Cathedral Junction at 7:00pm daily March – October and at 7:30pm daily November – February. Bookings essential.
开放时间
夏季:上午9点-下午6点(9月到3月)
冬季:上午10点-下午5点(4月到8月)
重要提示
有轨电车适合任何年龄段的游客。
可在任何有轨电车停靠站"(Tram Stops)的地点上下车,电车约每15-20分钟一趟。
车内座椅舒适安全,但车外座椅不防风雨。
为了安全起见,儿童必须由一位成人陪同上车,成人需要购买车票。
一个成人最多可监护5位婴儿/儿童(15岁以下),最多带3位儿童(5到15岁)免票,多余儿童可购买儿童票$5/人,婴孩免费。可折叠式婴儿车可在电车上使用。
高校小学团队请电邮咨询至info@christchurchattractions.nz.
What we offer

CUSTOMER SATISFACTION FIRST
We are committed to giving you the best experience possible

ADD MORE GET MORE
2 different tours added to shopping cart = $5 OFF
3 different tours added to shopping cart = $10 OFF
4 different tours added to shopping cart = $15 OFF
Each tour added to a single cart must have the same number of participants.
Discount applied automatically to your entire shopping cart.
Looking for more?
TRAM, PUNTING & GONDOLA TRIPLE PASS
TRAM, PUNTING & BOTANIC GARDENS TOUR TRIPLE PASS
TRAM, BOTANIC GARDENS TOUR & GONDOLA TRIPLE PASS
TRAM & PUNTING ON THE AVON COMBO
TRAM & BOTANIC GARDENS TOUR COMBO
Awards and Achievements